Having created this website over 10 years ago now, I have decided it is time for me to pass it on to a new face who can maintain the integrity of the site while injecting some new ideas to bring it into the 2020s. Max Authers has kindly offered to take this on in the near future. - Martin Ingall
A newly donated photo: "771 BJB is in the left foreground and barely visible is the windscreen of 770 behind" at Sebring for the 12 Hours in 1965. Driven by Americans Chuck Tannlund and Milt Wagstaff (DNF) for BMC, Andrew Hedges and Roger Mac drove the sister car to 26th place overall. The other BMC entry, the MGB No.48 of Picard and Pease came 32nd. Photo courtesy of the Michael Eaton Collection.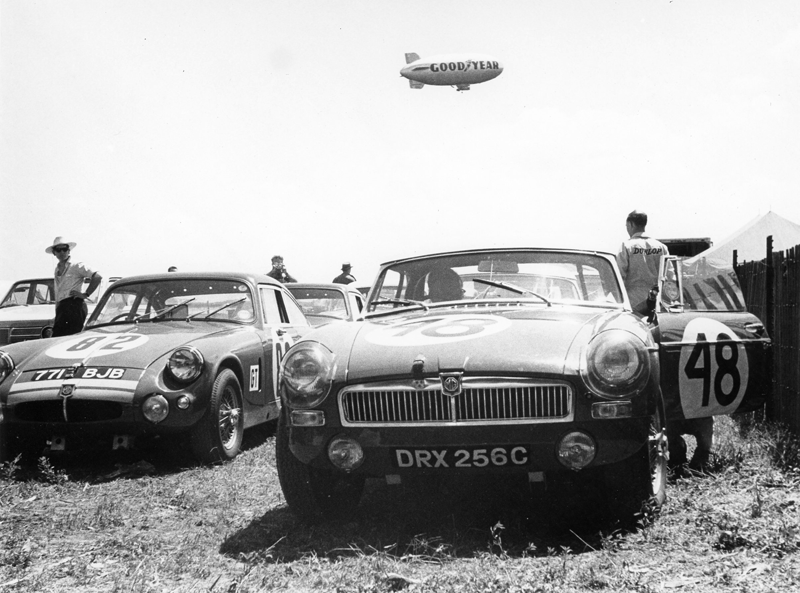 771 BJB at Sebring in 1965
Launch of the Tifosi Jem ~ Jacobs Midget Replica
​
Halls Garage, of Bourne in Lincolnshire have just launched their replica of the Jacobs Midget and articles have appeared in Kit Car magazine, MG Enthusiast and Classic Car Weekly.

In just 18 months since their acquisition of the fledgling project Steve Hall and Jason Elliott have produced a remarkable likeness to the original car.
Christopher Martyn 1936 - 2018.
We are sorry to have to report the recent death of Chris Martyn at the age of 82. During his varied racing career he once shared a drive (in 1963) in one of the Dick Jacobs MG Midget Coupes with Andrew Hedges as co-driver, finishing 13th overall, 2nd in the 1300cc GT class.
Photograph Submission
​
Alaster Smith reports: "I was Dick's "dogsbody" as referred to in his book. I have recently been going through some old photographs and have a few of the Midgets which you might like"
​
Images below courtesy of Alaster Smith
​
David Morys reports, after MG Live at Silverstone: "Saturday was so hot but we did manage to dart from umbrella to umbrella though it meant every stop was an eat or drink excuse to use the tables!
Nothing much of interest for the Sprite/Midget boys but the Milne car was there and I took a fair few shots."
Roger Friend reminisces

"I used to work at the Chequered Flag (Garage) Edgware, and my boss was Alan Foster one of Dick Jacobs' drivers. The 'Jacobs Midgets' were delivered to the Chequered Flag from Abingdon by men in white coats and before they where loaded on to the Mill Garage transporter Alan Foster decided he wanted to give them a blast up the Edgware Road. He asked me to jump in and off we went; my impression was that it was not quite as quick as a race-prepared Lotus Elite but the road holding was as good, if not slightly better. Andrew Hedges was also there along with Dick Jacobs, and everybody agreed they looked like baby Ferraris. There you go, Martin ~ Happy Days for me as a spotty teenager. Regards, Roger".
This fine shot of the two ex-Dick Jacobs cars before the start of the 1965 Sebring 12 hours was discovered by David Morys. Car No.68 was driven by Andrew Hedges and Roger Mac to a class win while No.82 (Charles (Chuck) Tannland and John Wagstaff) retired with con rod failure.
Ex-Dick Jacobs Midgets await the start of the Sebring 12 hours in 1965
Bill Price has has kindly provided two photos which were originally published in his wonderful book "The BMC/BL Competition Department"
​
Robert Clubbe recently came up with this photo of the 1965 Targa Florio (ex-Jacobs) Midget of Hopkirk and Hedges showing the Competition Department's modified side-exit exhaust.
​
From Joe Armour in NSW Australia: " This (MG Midget) was built in Australia using UK parts. Gearbox was a 4 speed MGA unit so this had to be related to the LeMans/Sebring cars like mine that had 4 speed MG gearboxes with overdrive for 1966 and then were modified to include a 5th gear for 1967 & 68. I I had a ride in this Midget at the Albany Around the Houses Race meeting back in 199? I believe it is now in Queensland ".

(right) - Full article from Sports Car World, Dec, 1967.
A very atmospheric shot of 770 BJB at Mill Garage in 1962.[Photo supplied by the Revs Library]
​
A comment from Dennis Wharf:
"What a lovely picture,(see 'news' page) I've never seen it before, looks like Dick at the wheel. Having bought my first MG in 1971, a Mineral Blue Midget registration XYK 824G and being an Essex resident, the Mill Garage became my first stop for spares etc. Seeing this picture was a real memory jerker, for the forecourt and buildings remained unaltered until being demolished in 1975 to make way for the M11. By that time I'd met Dick a couple of times, and had been shown all around the place, and all the racing stuff he'd collected over years and kept in the office. Great times, thanks Martin. Cheers, Den"
​
A comment from Pat Harris:
"I've just seen the mention of the Mill Garage in Woodford which brought back a lot of memories, as I only lived about 2 miles away. This was my local BMC dealer and although I didn't own a sports car myself at the time my Morris Minor 1000 had all the 'Sprite bits', so regular visits ensued.
Anyway I thought this page from a book titled 'Woodford then and now' might be of interest. The photo at the bottom is as it is now, taken from roughly the same spot.
Regards, Pat Harris"
"Looking back with Dick Jacobs" ~ an article from 'Motorsport' in 1974 written just after the closure of Mill Garage